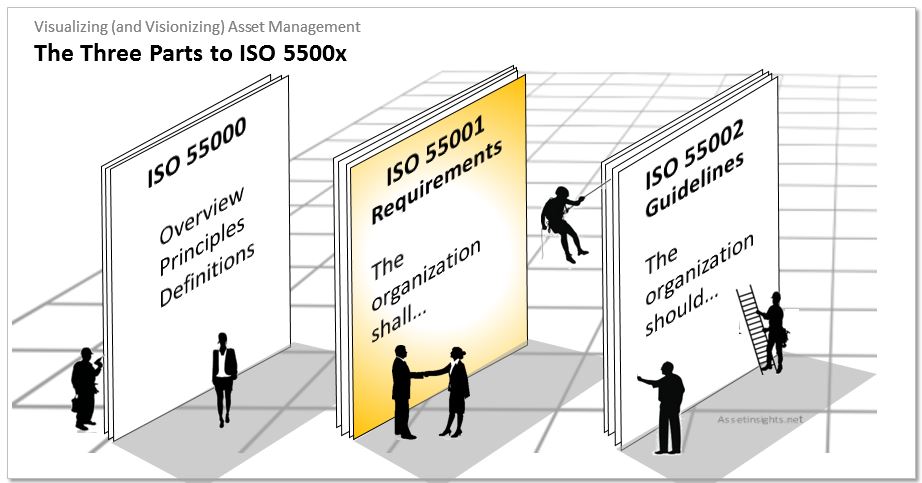 Fig. The three parts to ISO 55000, 55001 and 55002
- the international standard for asset managment
.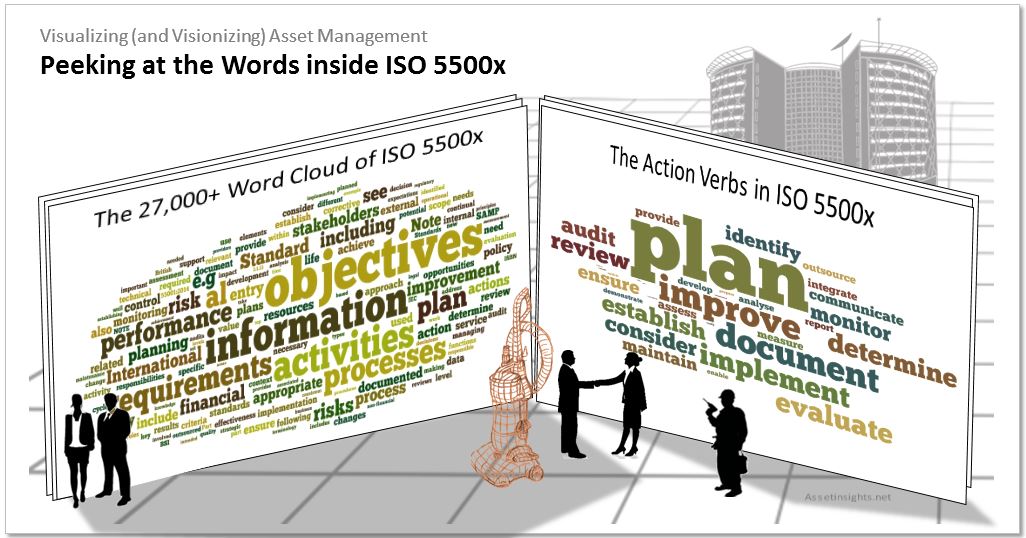 Fig. Analyzing the approximate 27,0000 words inside ISO 55000/55001 to reveal patterns in the requirements.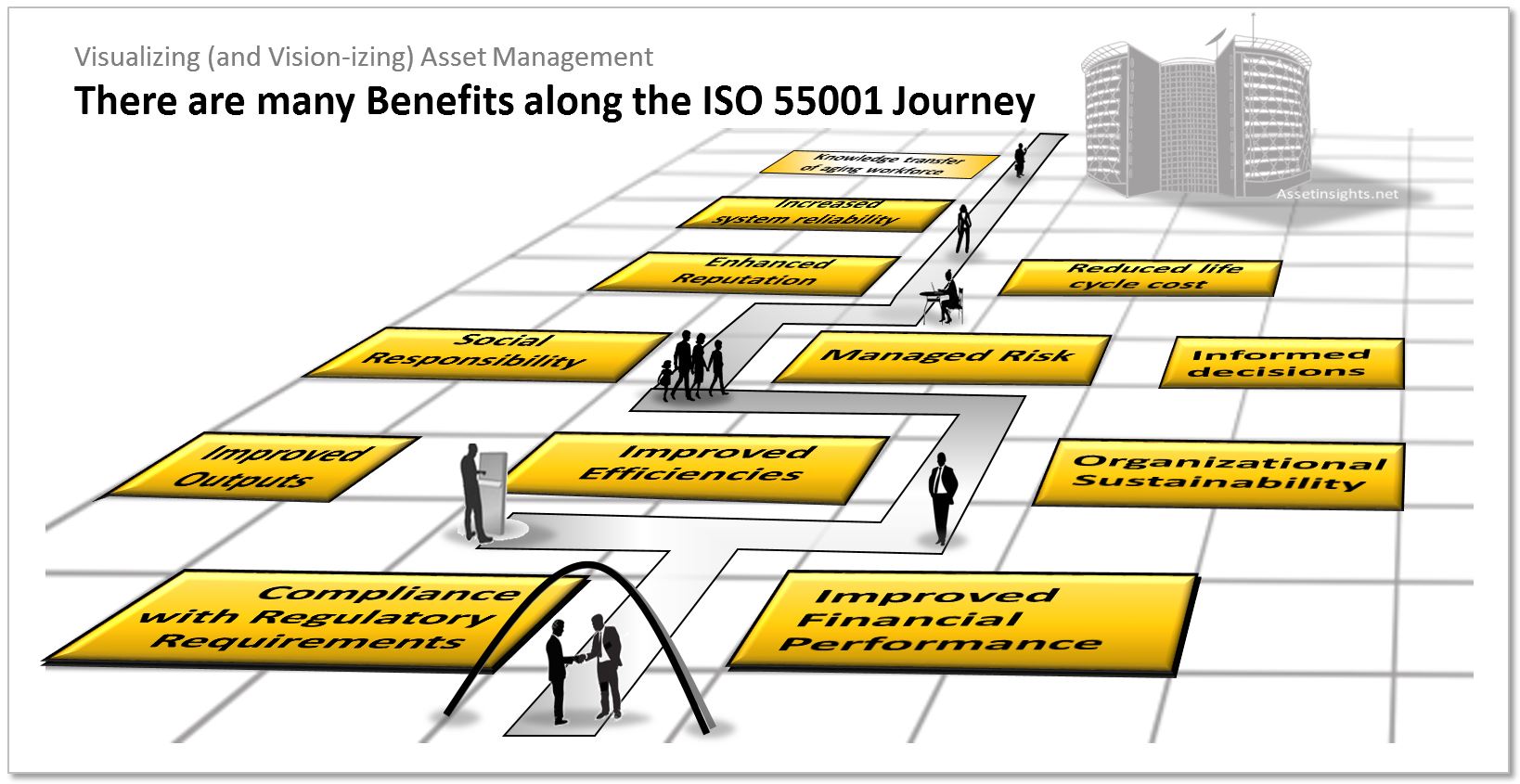 Fig. There are many benefits to implementing an asset management system in accordance with the requirements of ISO 55001.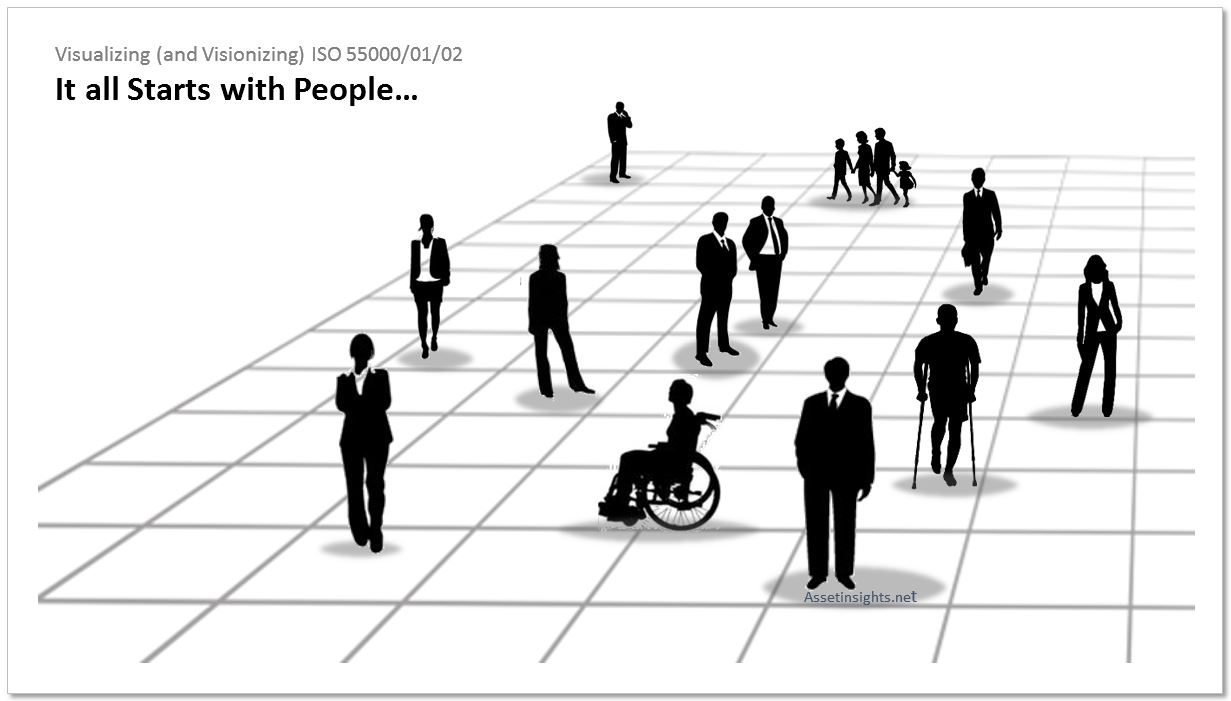 Fig. It all starts with people.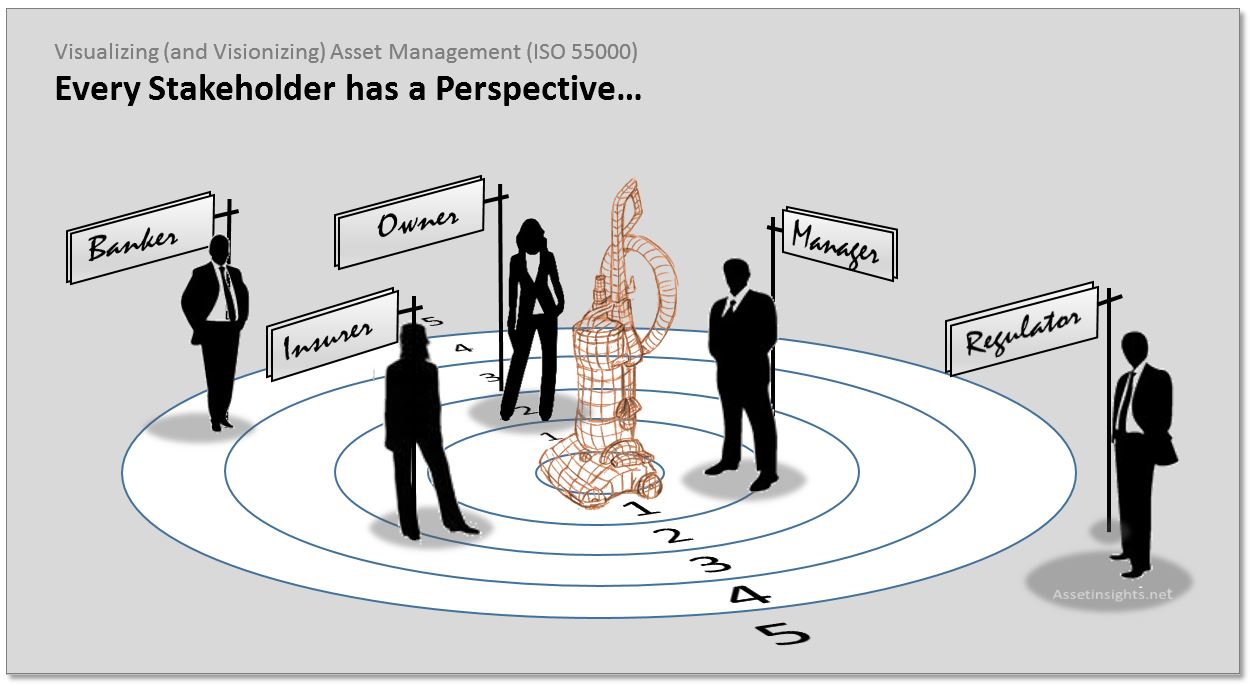 Fig. Every stakeholder has a perspective. ISO 55000 (ISO 55001) helps to align these with corporate and asset management objectives.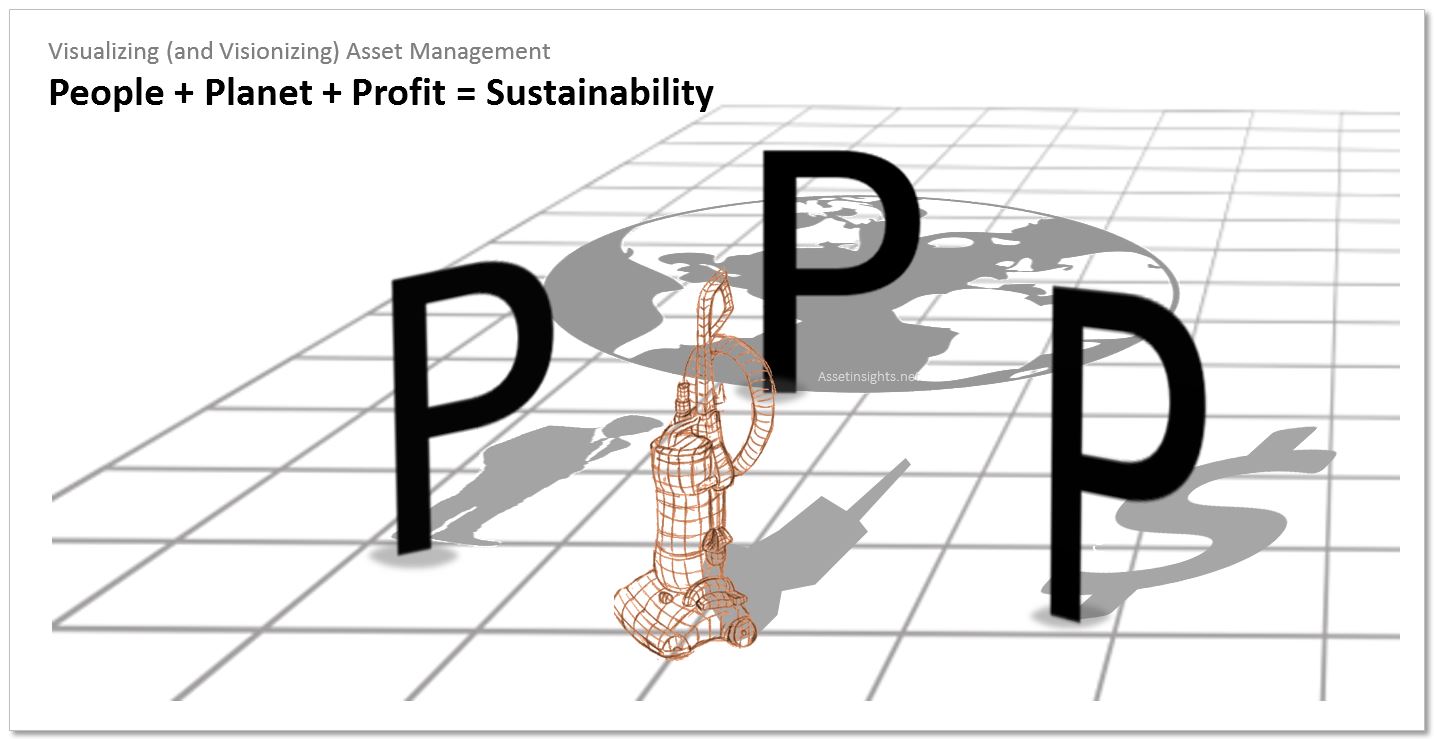 Fig. People + Planet + Profit is the triple bottom line of sustainability.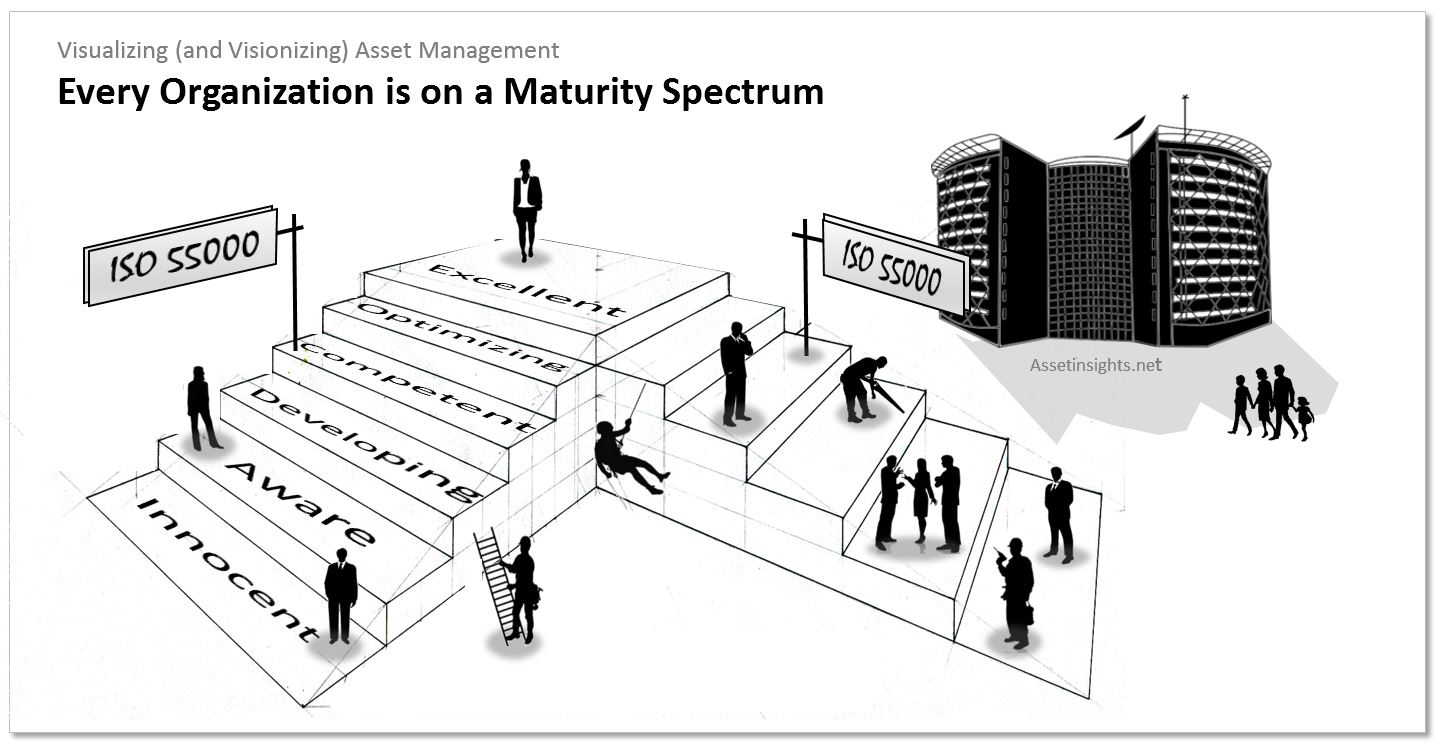 Fig. The maturity spectrum of asset

management where conformity to ISO 55001 is approximately mid-way along that spectrum

.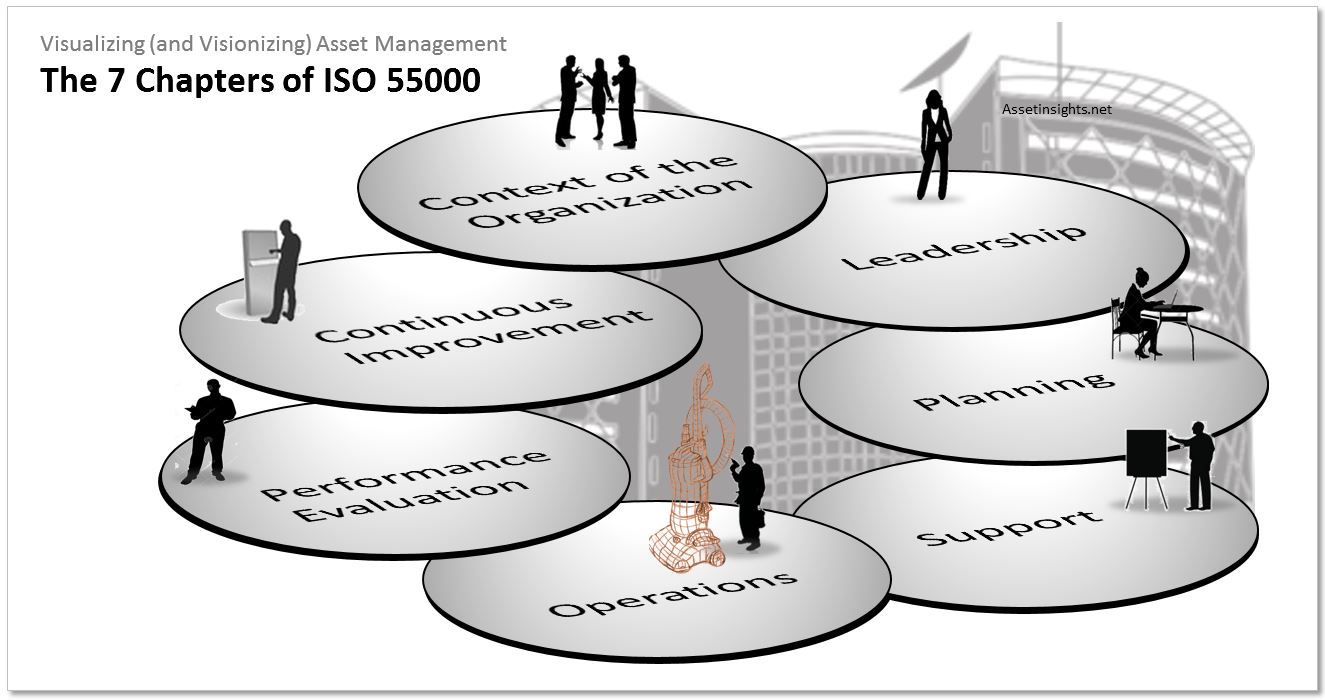 Fig. The seven chapters of ISO 55000
, including leadership, planning, support and operations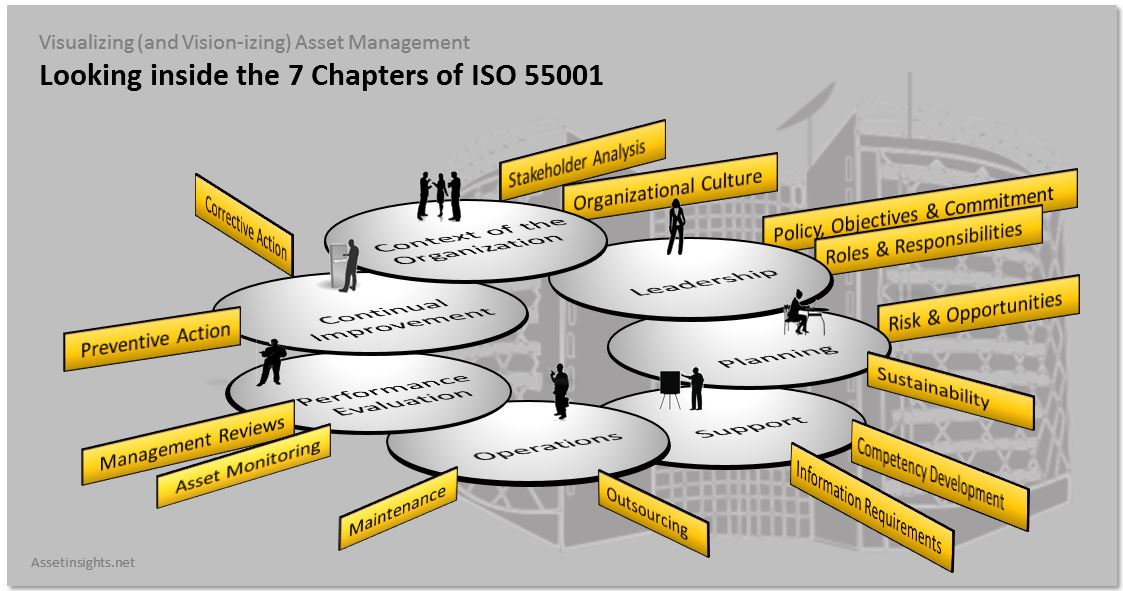 Fig. As we dig deeper into ISO 55001 we find the rich fabric of concepts woven into the seven chapters. This is where the nuances and complexities of asset management start to reveal themselves.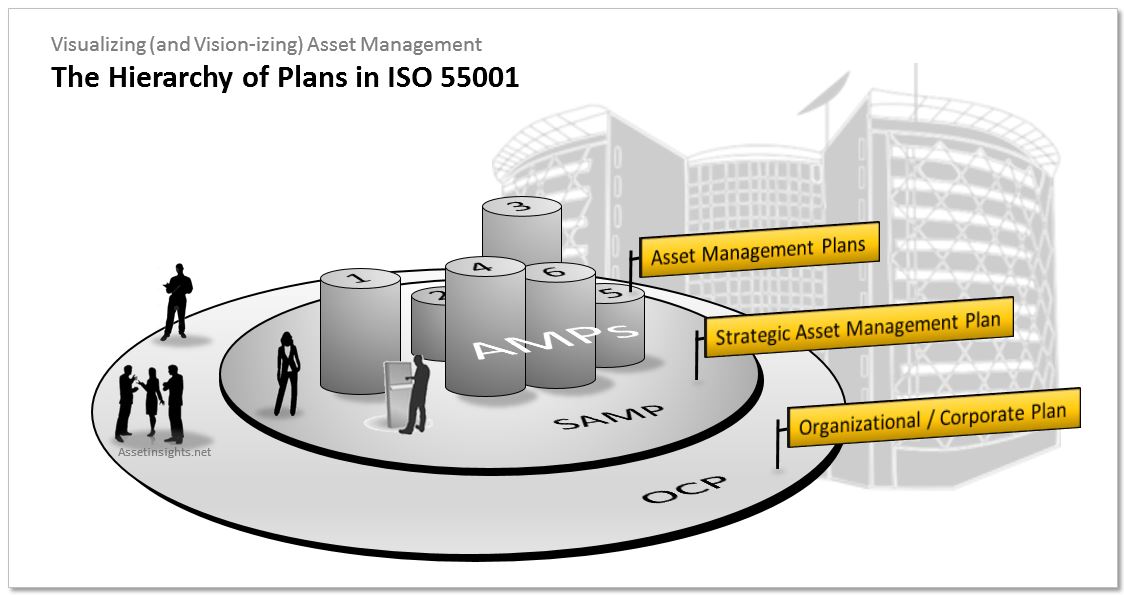 Fig. The hierarchy of plans in ISO 55001 from OCP to SAMP to AMPs

.

The most important attribute of each plan is that they are aligned with the other plans

.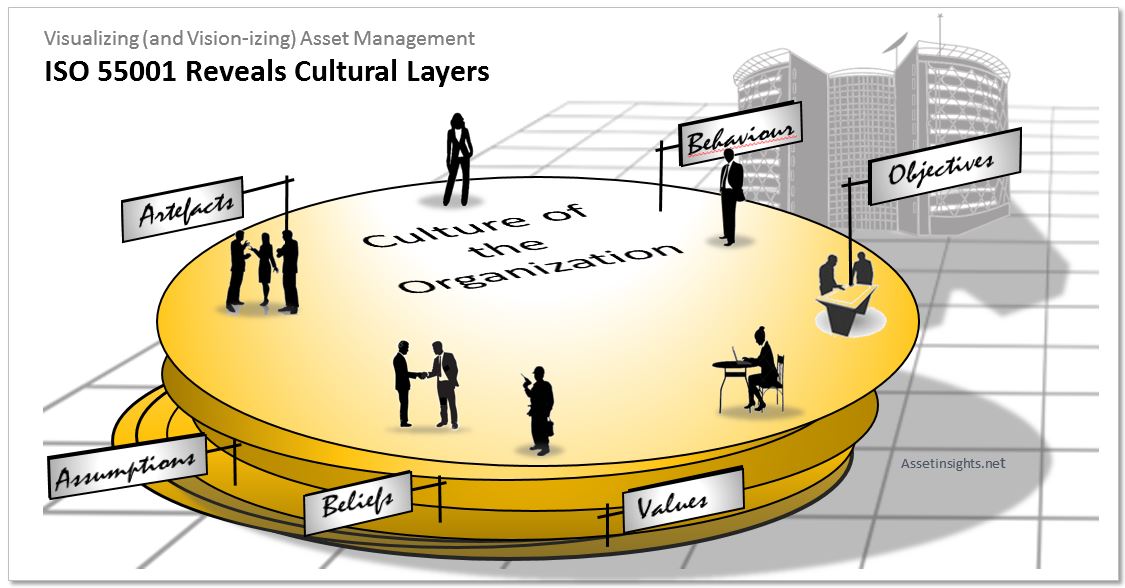 Fig. ISO 55001 exposes the cultural layers of an organization in order to effect change

.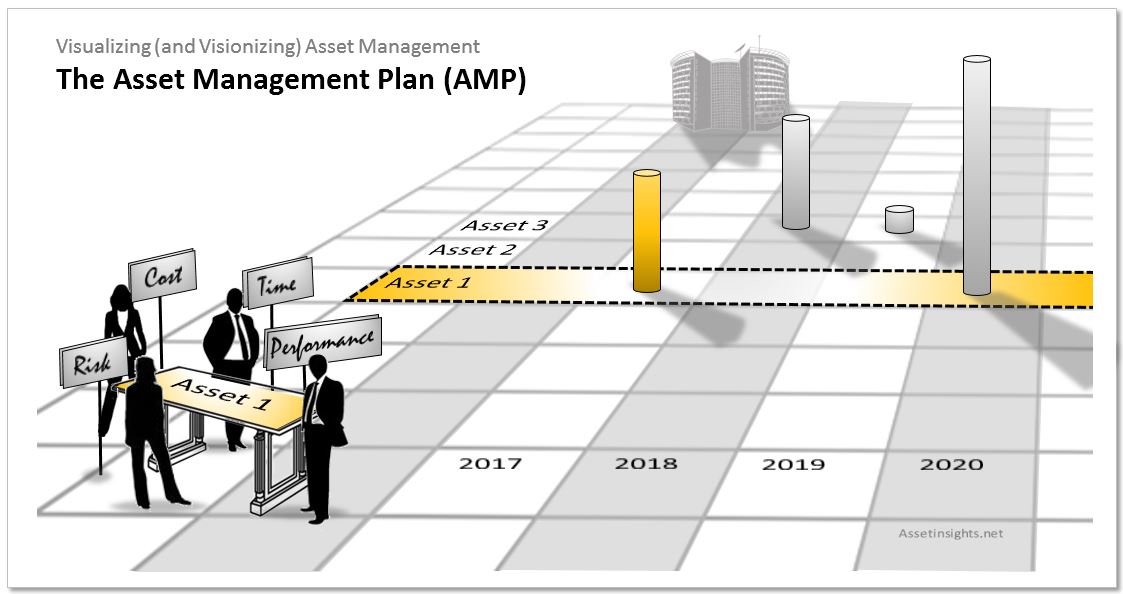 Fig. An Asset Management Plan (AMP) will optimize value by making appropriate trade-offs between risk, cost and performance.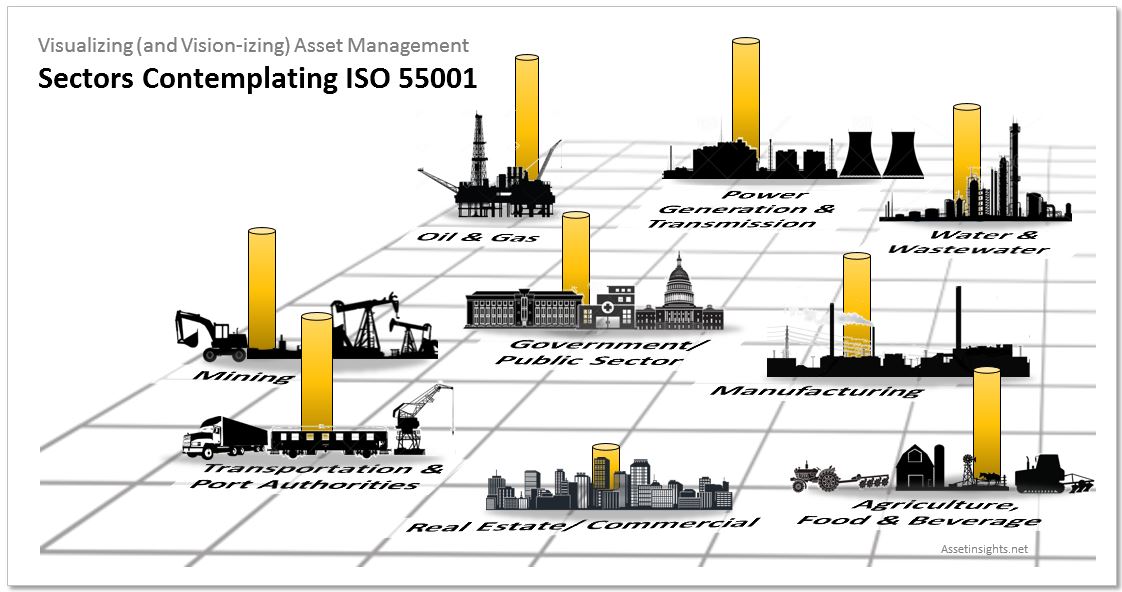 Fig. All sectors of the economy are
contemplating ISO 55001 conformity:
primary sector (extraction), secondary sector (production), tertiary sector (service-based) and perhaps also the quaternary sector (knowledge-based).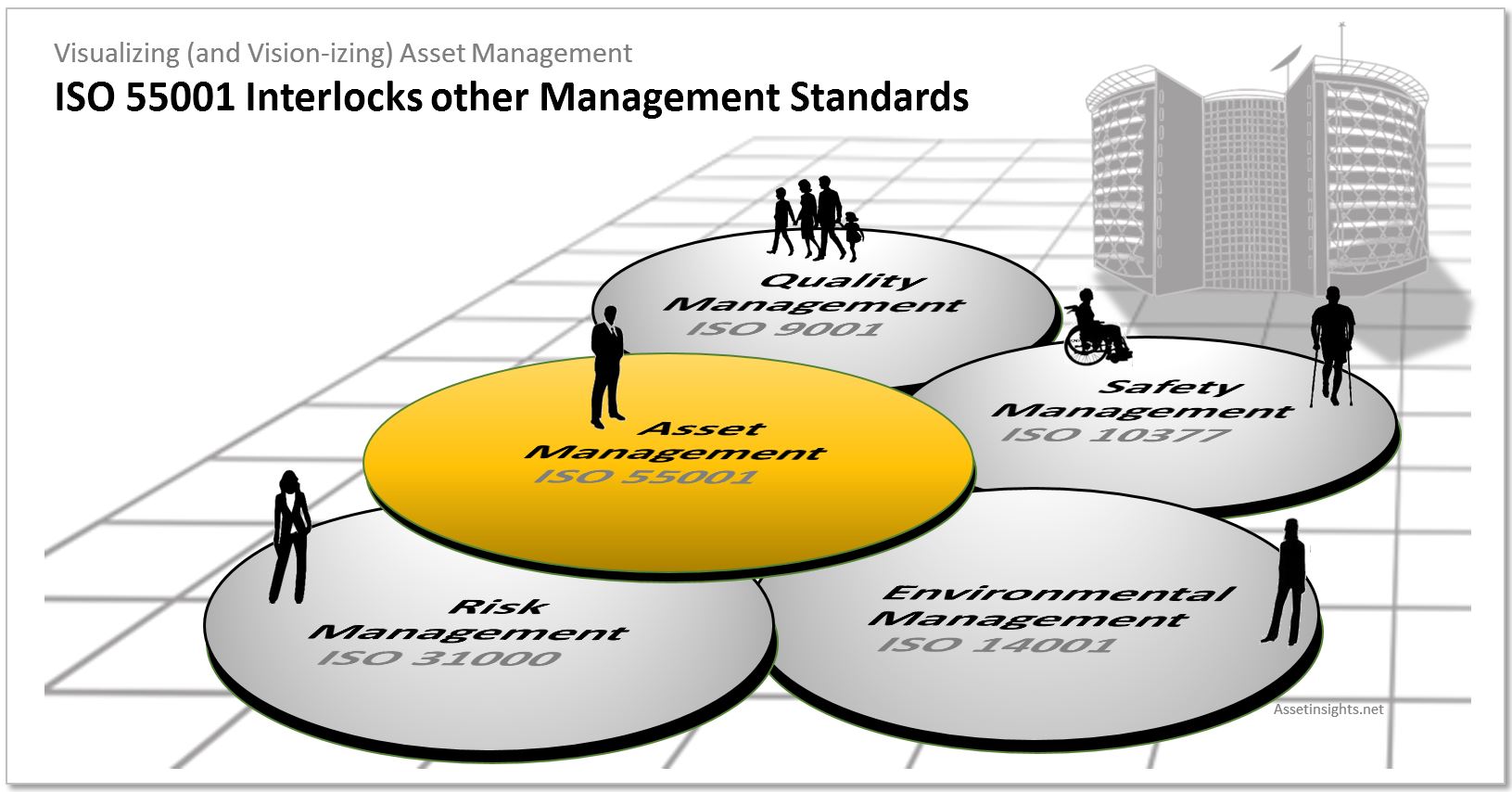 Fig. ISO 55001 interlocks with other ISO management standards (such as 9001, 14001, etc.)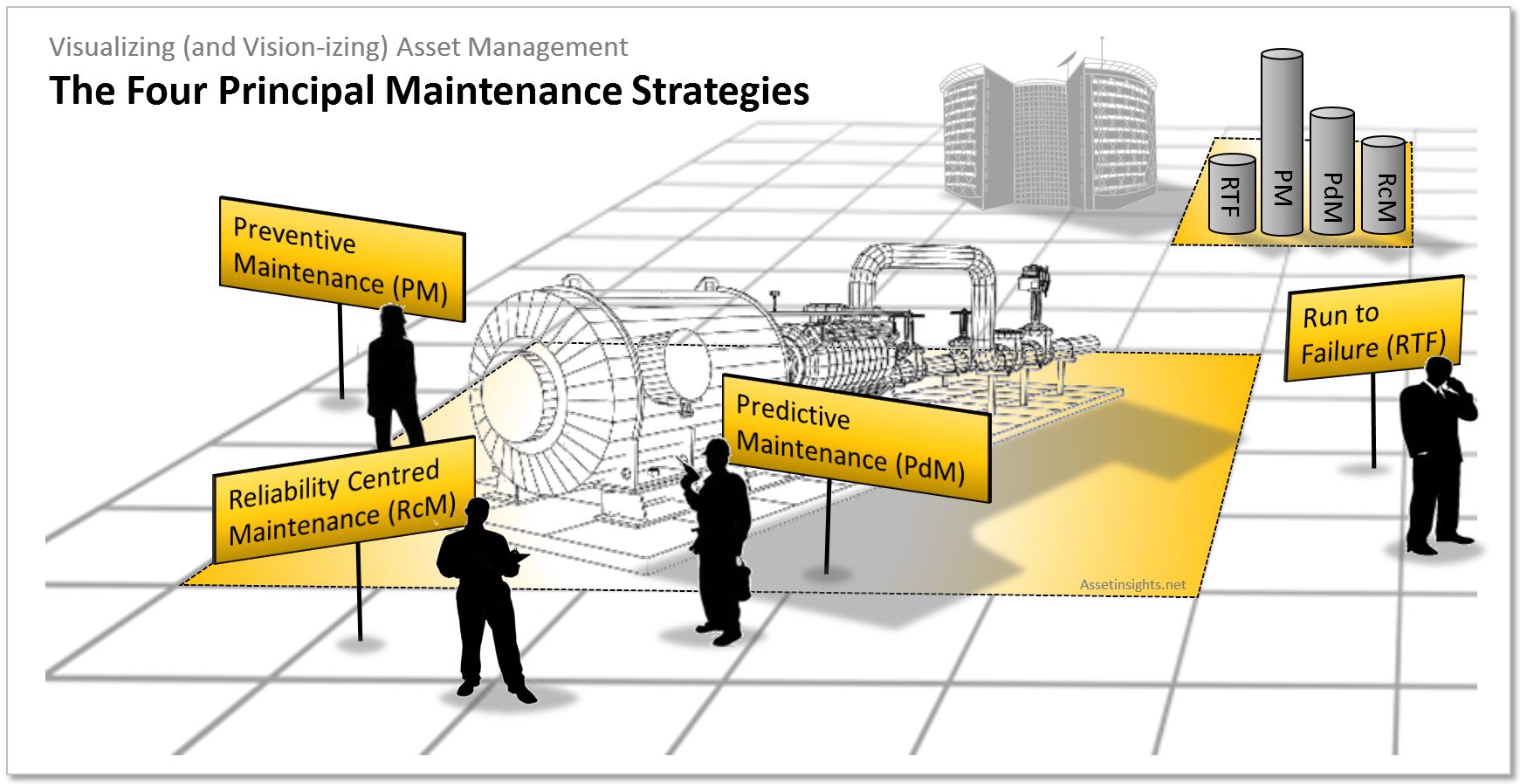 Fig. Alignment of the four different types of maintenance strategies across the asset portfolio on decisions that are risk-based and consider the whole-life of assets will result in a maintenance mix that is in conformity with ISO 55001 standards

.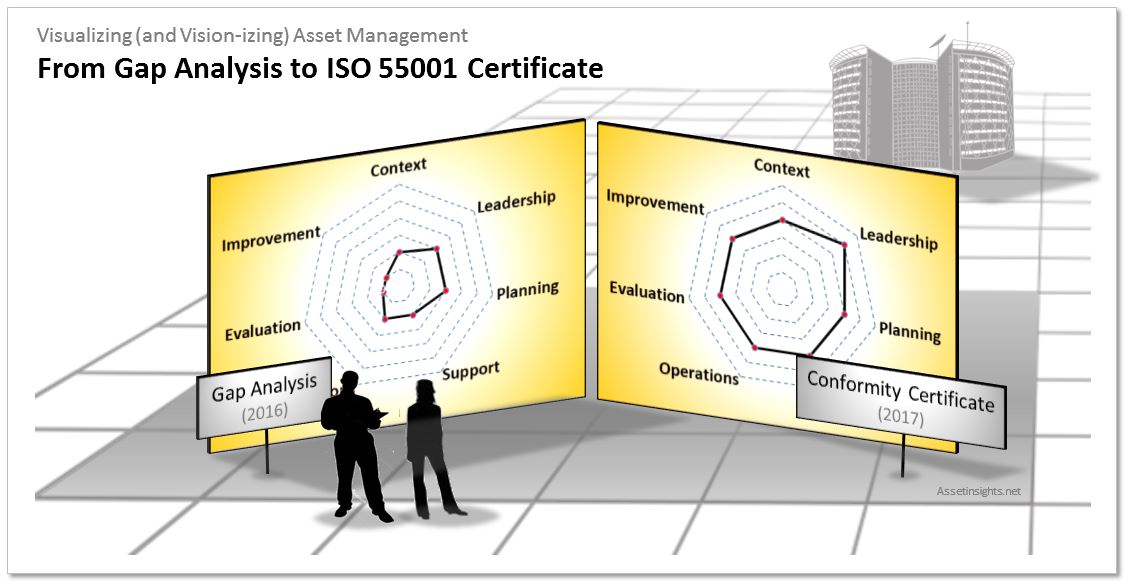 Fig. From "Gap Analysis" to ISO 55001 conformity certificate for the asset management system (AMS).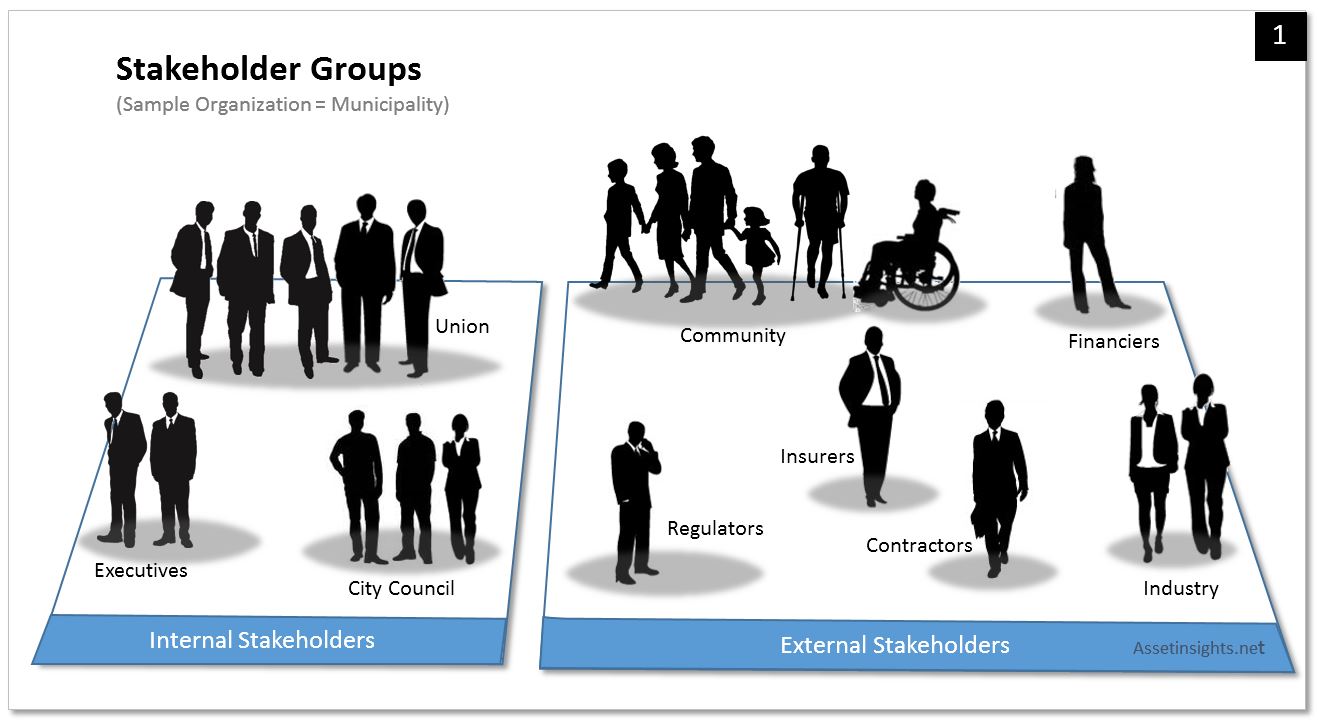 Fig. Example of some of the key stakeholders associated with a municipality.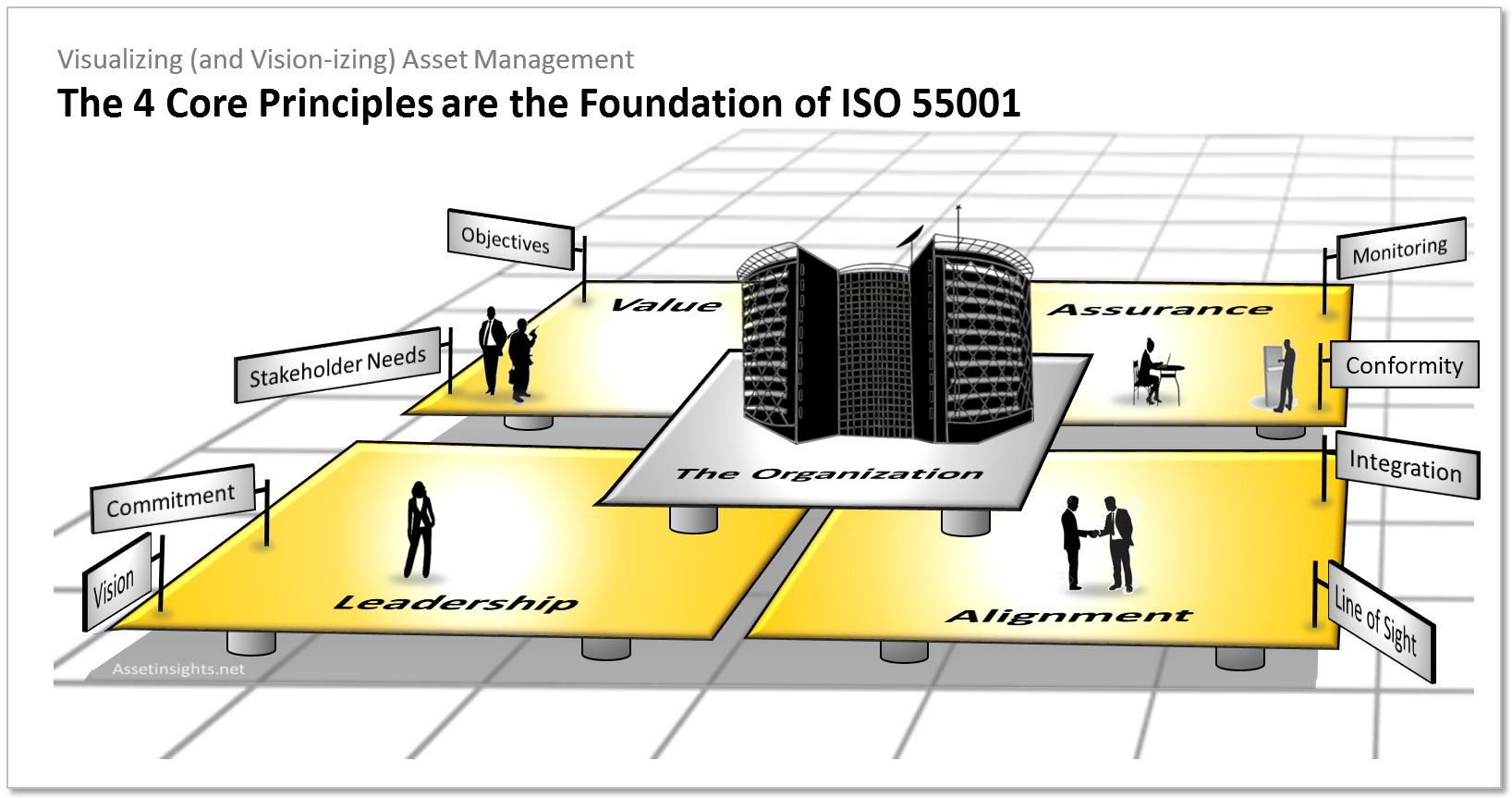 Fig.

39 subject areas in the asset management body of knowledge and 7 chapters in ISO 55001. All of which rests on 4 core principles.

.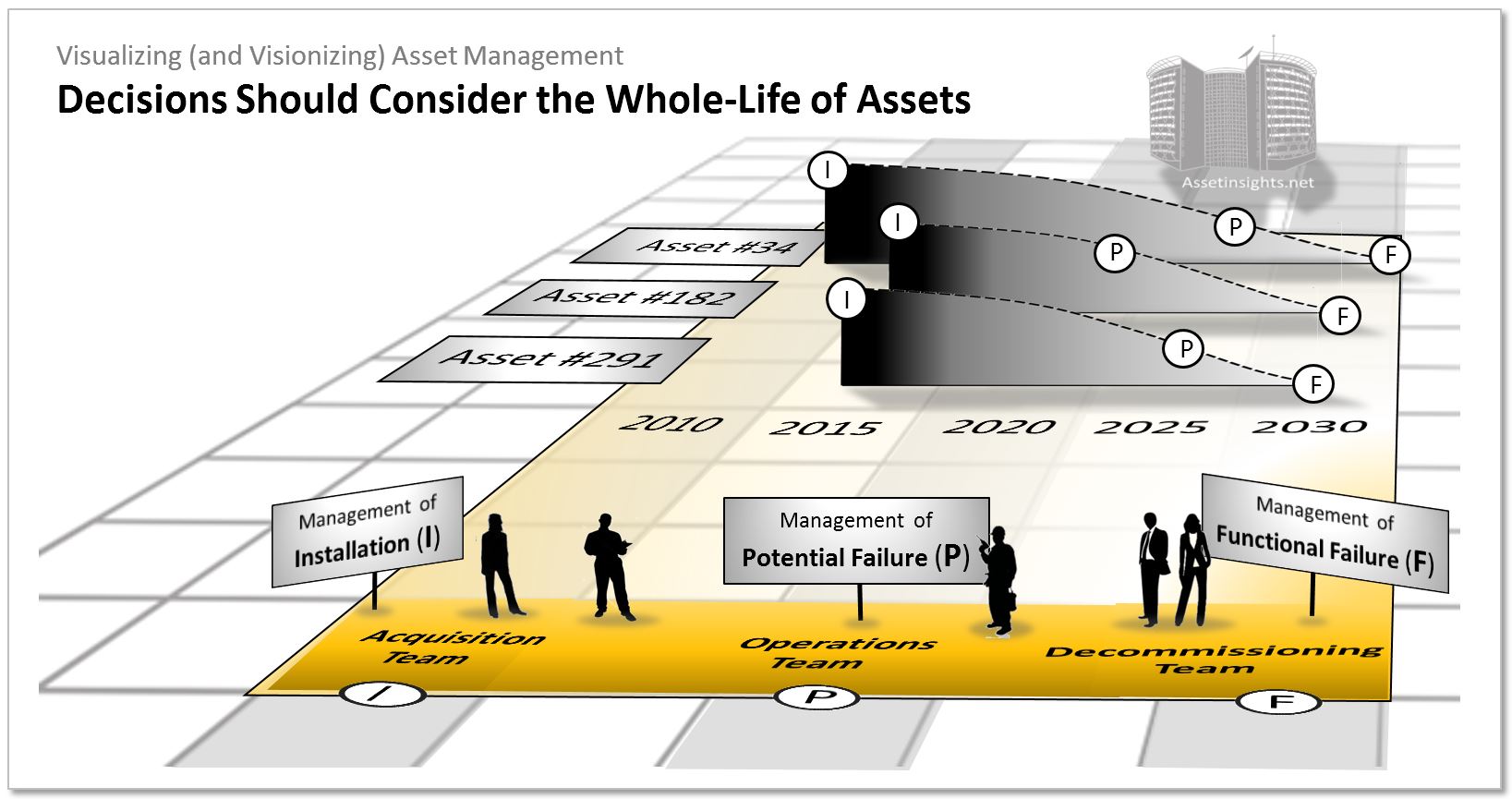 Fig. Decisions should consider the whole life of assets, including the I-P interval and the P-F interval.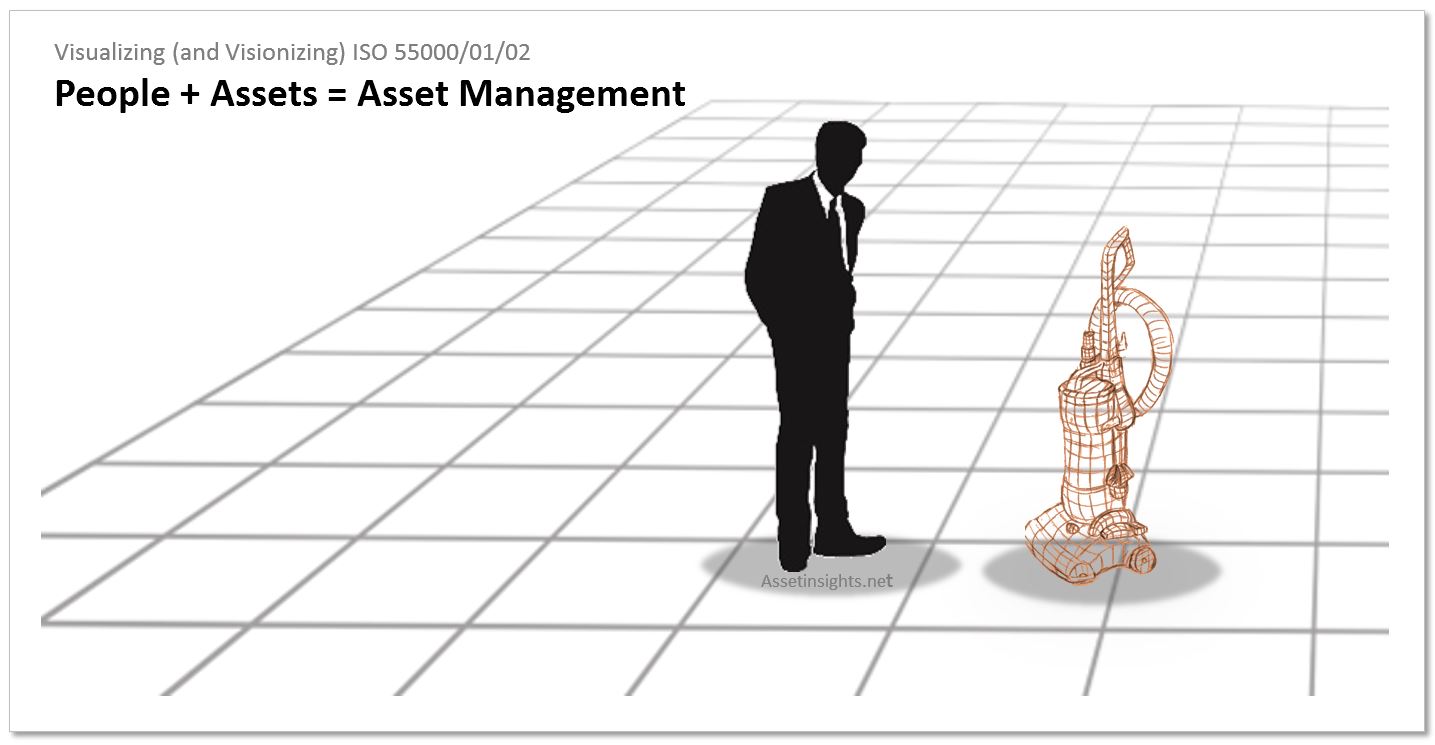 Fig. People + Assets = Asset Management (this is the simple view). A more complicated story is People + Planet + Profit = Sustainability.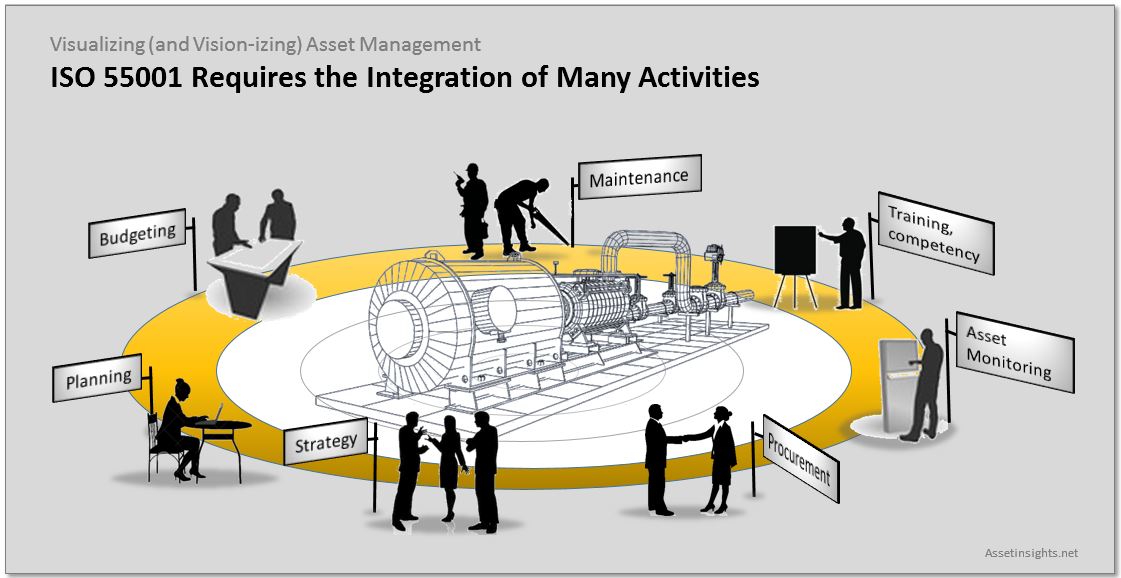 Fig. Asset management requires the integration of several activities to realize value from assets. ISO 55001 helps with the alignment.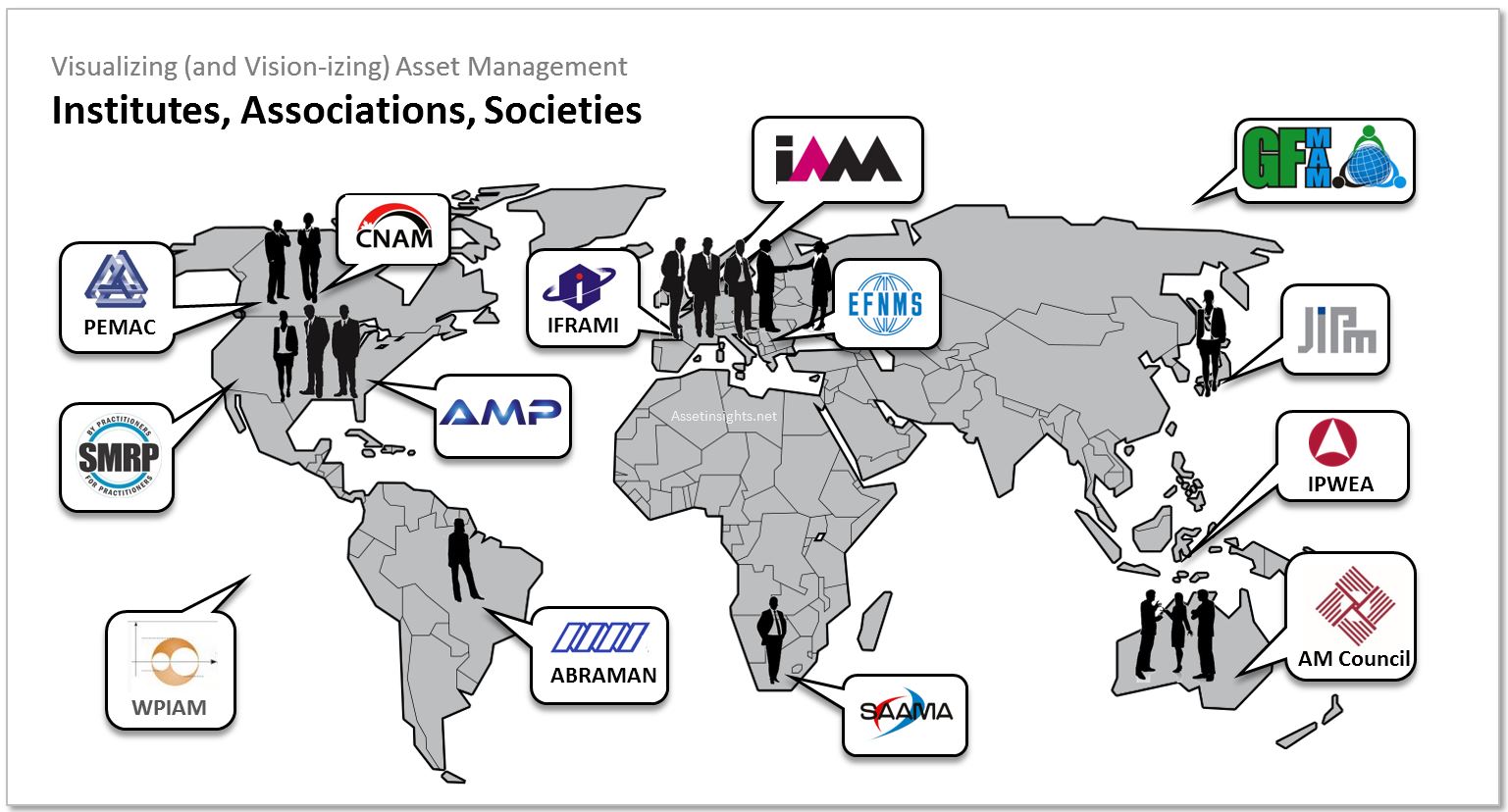 Fig. Some of the principal asset management associations around the world.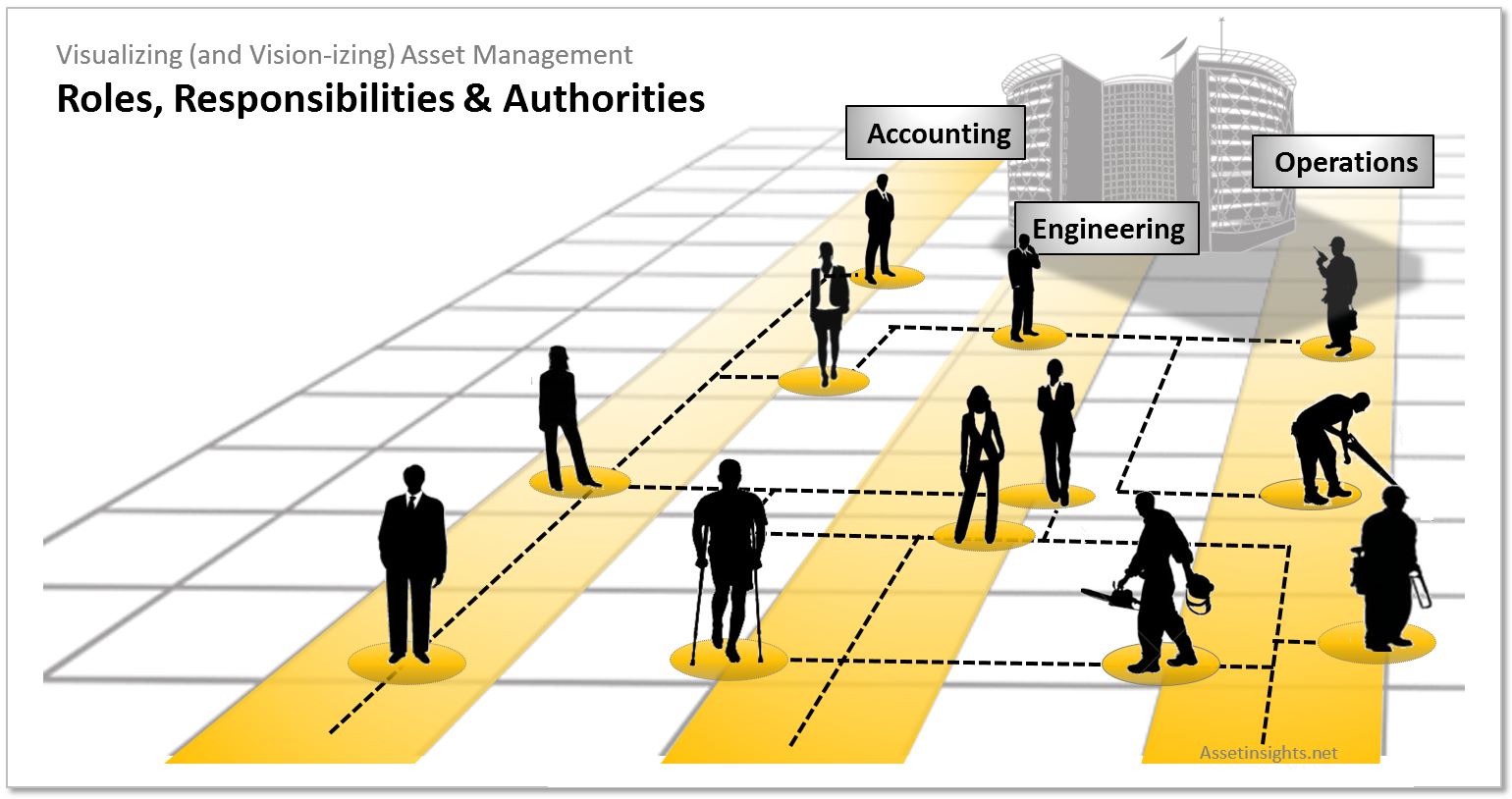 Fig. Clearly defined roles, responsibilities and authorities are one of the signs of good leadership. In accordance with ISO 55000, these must be coupled with appropriate structures and relationships to establish the asset management system (AMS) within the organization.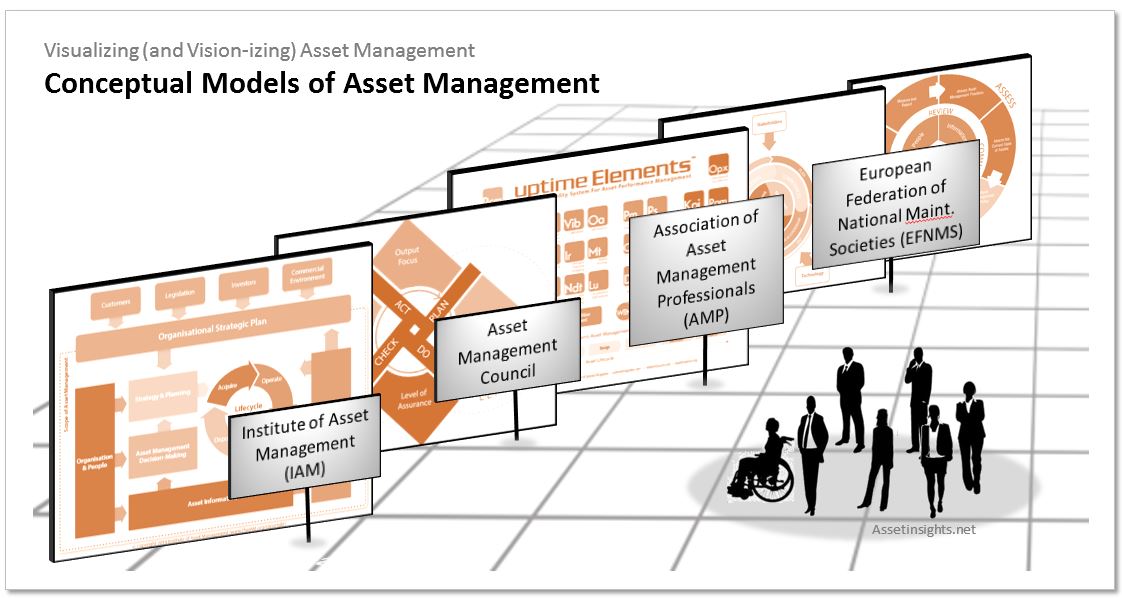 Fig. Conceptual models provide a high-level framework for sense-making of the numerous elements of asset management and how these elements interact over asset life cycles. Some insightful models have been developed by learned societies and organizations around the world

.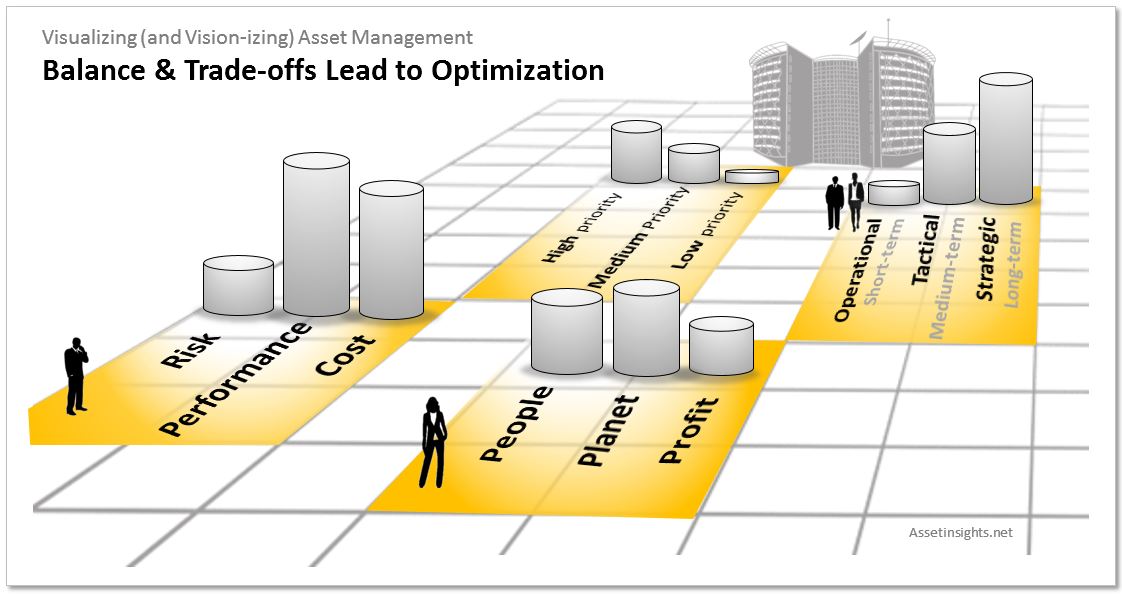 Fig. The principles of ISO 55001 help to ensure that optimization is achieved through mindful balance and measured trade-offs between decision-making criteria.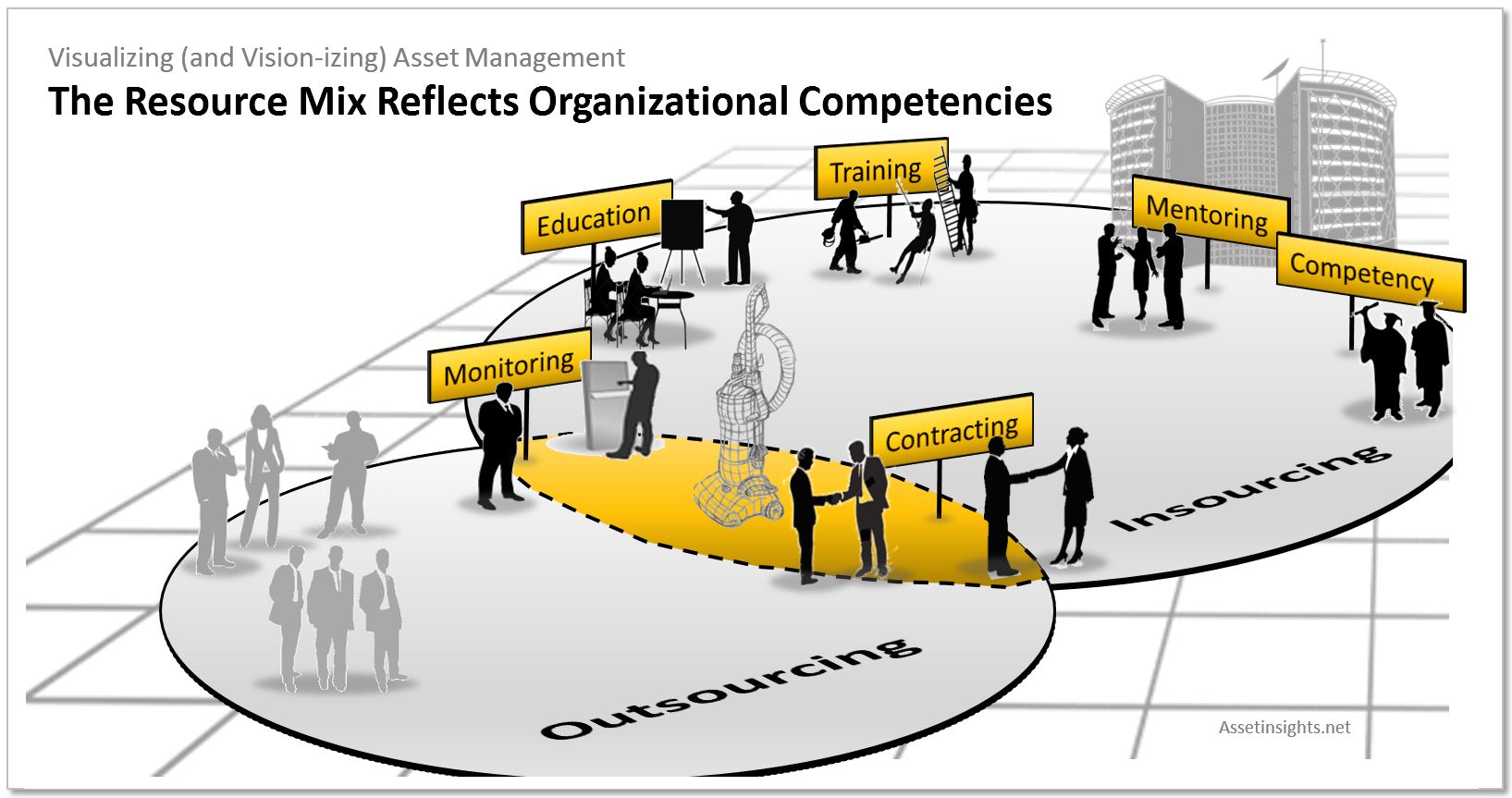 Fig. The resource mix should reflect the organization's competencies, which will evolve over time with education, training, mentoring and experience of its own forces.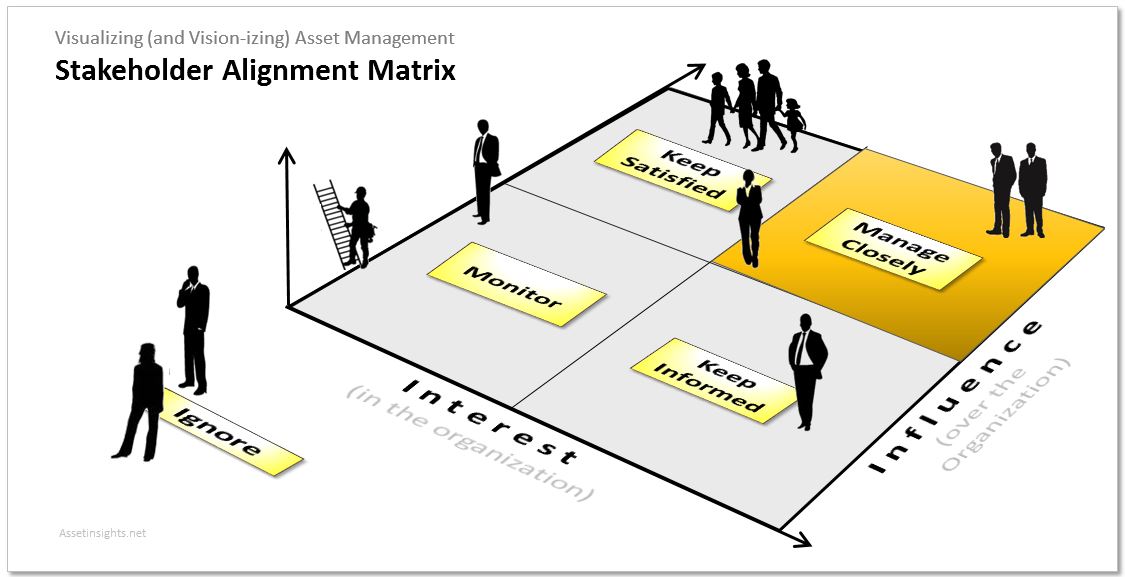 Fig. ISO 55001 requires a stakeholder analysis and this should include a stakeholder alignment matrix.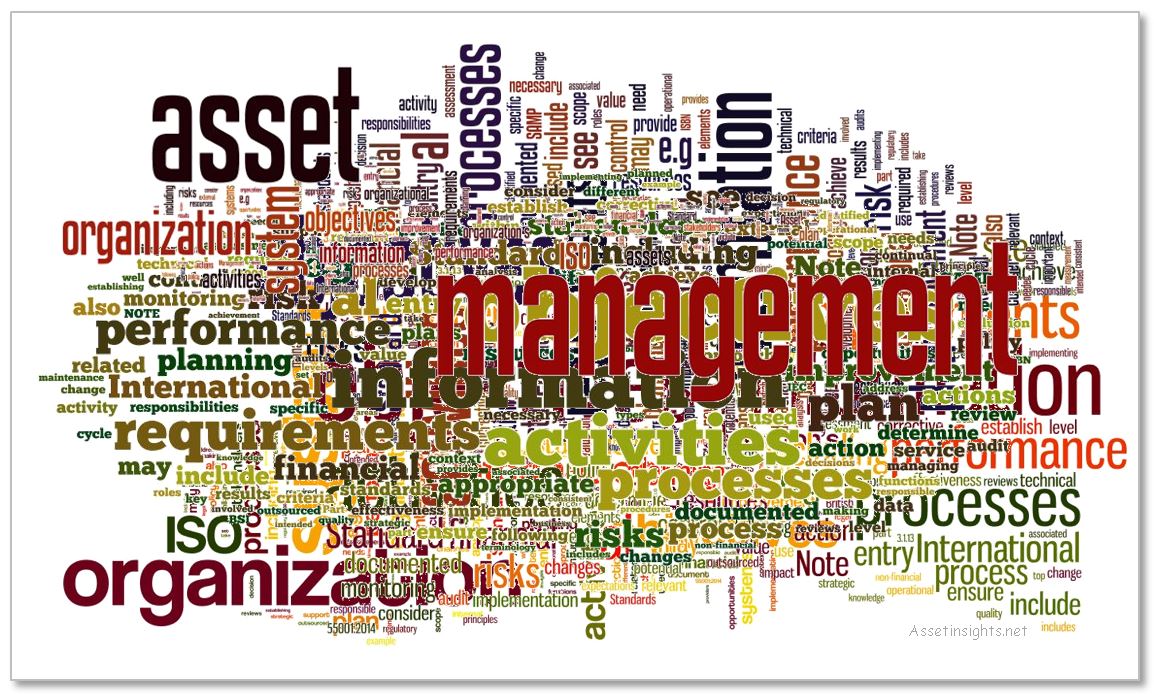 Fig. Word clouds to illustrate the keyword densities in the ISO55000 standard.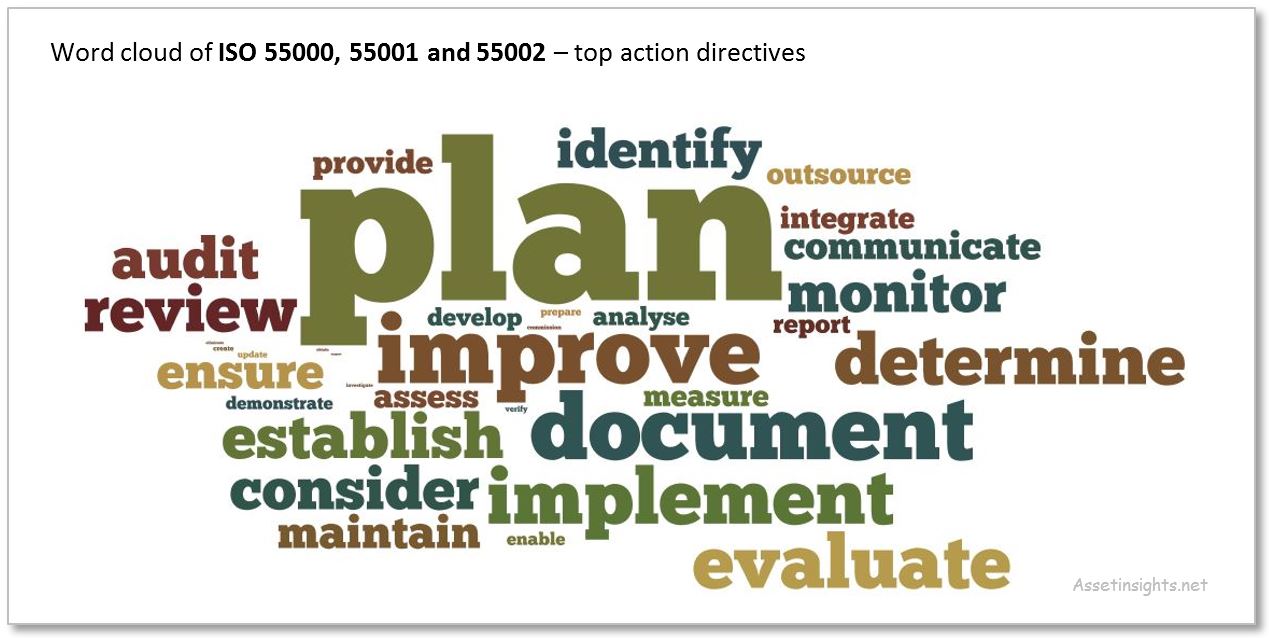 Fig. Word cloud to illustrate the action verbs in the ISO 55000 standard.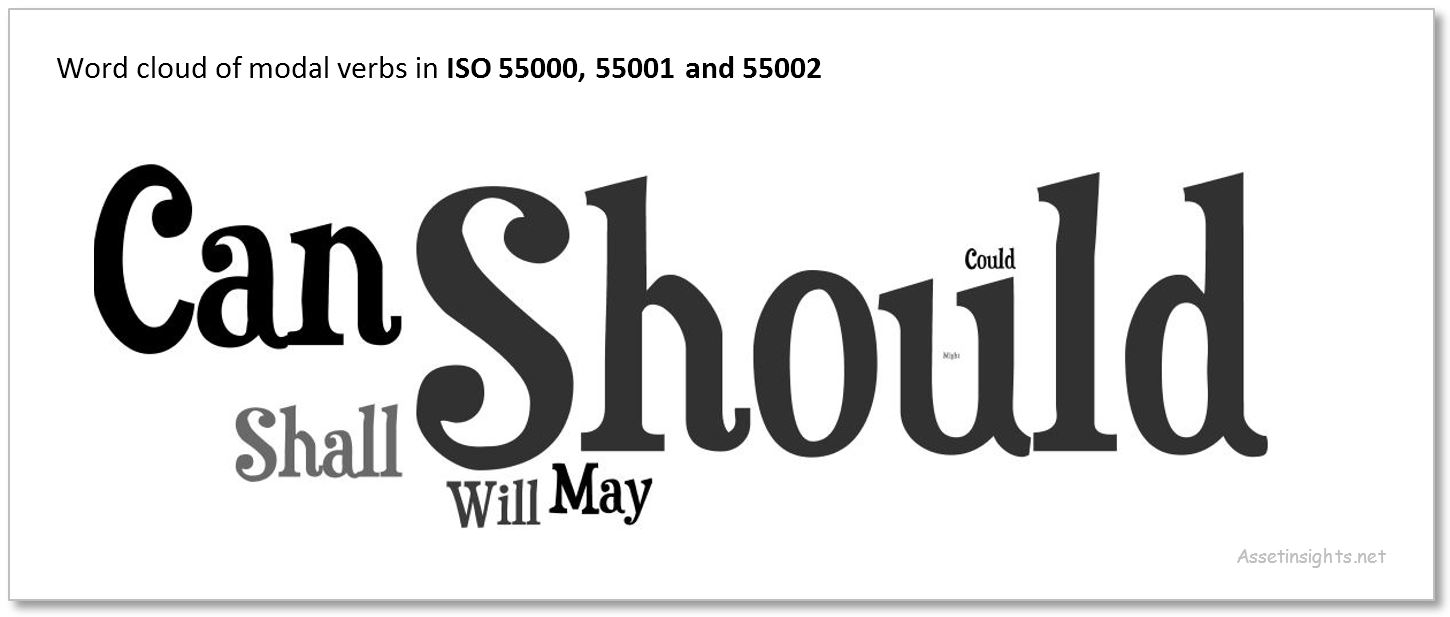 Fig. Word cloud to illustrate the modal verbs in the ISO 55000 standard.